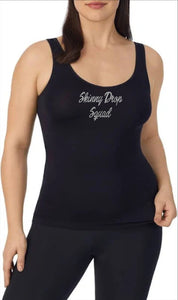 SKINNY DROP SQUAD |  BLING Women's CHARCOAL Tank | Business Casual Collection 
Introducing the SKINNY DROPS SQUAD Business Casual BLING Women's Zen Tank the perfect combination of comfort and style and fun fitness
Swag, Gear is Here...For the Field by the field.
NiedanBling has partnered with BE FIT BOOTCAMP to help you shine bright and elevate your business branding with custom Austrian Crystals!  Classy and professional we have it all  for you in this collection.
Lightweight knit with a lot of stretch. Lightly brushed on both sides which gives a soft cozy feel that is smooth against the body.
Sizes: XS-2XL
This is a FITTED style with 4-way stretch, you may want to order up a size if you desire a semi-fitted look.
Avaialble in Black, Charcoal
Our stylish tank Lightweight, Comfortable Material. Made from 80% Nylon and 20% Spandex, the fabric on this workout top is lightweight and breathable—perfect for when you're at the gym or more
This slim fit innovative style was made for all body shapes, offering comfort and accentuating your silhouette!
Content: 80% Nylon, 20% Spandex
Machine wash cold
Whether you're heading to workout, yoga, the beach or hanging out, this BE FIT BOOTCAMP Business Casual BLING Women's Zen Tank is sure to make a statement. And with its lightweight fabric and fabric laundered design, it's guaranteed to keep you comfortable all day long. 

So why wait? Elevate your wardrobe and add a touch of style to your corporate attire with BE FIT BOOTCAMP Business Casual BLING Women's Zen Tank
sizing guide
| IZE | Numeric Size | Bust (in) | Waist (in) | Hips (in) | Body Length (in) | Sleeve Length (in) |
| --- | --- | --- | --- | --- | --- | --- |
| XS | 2 | 31-32 | 25-26 | 35-36 | 25 | 6 1⁄8 |
| S | 4-6 | 33-35 | 27-28 | 37-38 | 25 ½ | 6 3⁄8 |
| M | 8-10 | 36-38 | 29-30 | 39-40 | 26 | 6 5⁄8 |
| L | 12-14 | 39-41 | 32-34 | 42-44 | 26 ¾ | 6 7⁄8 |
| XL | 16-18 | 42-44 | 35-37 | 45-47 | 27 ½ | 7 1⁄8 |
| XXL | 20 | 45-47 | 38-40 | 48-50 | 27 ¾ | 7 3⁄8 |